So what did we get for the money?
Jim Thompson (jthompson@taii.com)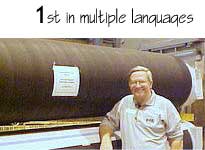 Week of 5 Oct 2009
Click here, then click "Trans lator" in top navigation bar for other languages.
Follow Nip Impressions on Twitter

After last week's column a good friend wrote and said I probably made some people mad. While true, that was not my intent, of course--my intent was and is to produce some positive action that can move our great industry forward. Yet, if last week's column did make a select group mad, this week's promises to throw that net wider while my intentions stay the same. Making people mad is a dumb objective, one must be striving for better goals than this--I am trying to wake the dead. So what did we get for the money? What money? I am speaking of the funds invested by the industry and governments worldwide on pulp and paper research since about 1980. The short answer, of course, is not much. We have a printing and writing industry on the ropes, a newsprint industry that is dead. Packaging and tissue thrive. Anyone could have predicted most of this in 1980 and saved the R & D investment of the last thirty years. Sure, there have been minor improvements, but as far as any, using the popular vernacular, "transformative" changes, they have been small and relatively insignificant (except, perhaps, in the areas of process control and data logging). We have not created exciting new products, we have not figured out ways to make existing products in significantly cheaper ways. The money was and is being wasted. When was the last time an entirely new application for some form of paper was invented? As far as process, one famous CEO retired saying he could still operate any paper machine or any recovery boiler just as he did when he entered the industry--nothing much had changed. And this gentleman was responsible for incalculable millions in R & D expenditures! CEO's of pulp and paper companies admitted years ago, through their actions, that they did not know how to manage R & D. They shrunk R & D staffs and eventually spent a small effort extracting R & D funds from governments, in the process giving up any exclusivity to discoveries. If R & D had been an obvious big money maker, they would never have given it up; it was because it was not they did. Some companies, having spent considerable funds developing ideas and spending the treasure necessary to patent them, decided their best worth was to give them to universities and claim a big tax write off for the gift. This of course, only led to tax authority investigations as to the legitimacy of the claims, an exercise which managed to line the pockets of a few expert consultants if nothing else. What went wrong? This writer thinks the problem for our industry was multi-faceted. First, our products, unlike neo-consumer products made by chemical companies such as DuPont or Dow, had become so ubiquitous they attracted players capable of building large, economical production facilities to turn out look alike products. Yes, as we all know, we commoditized the industry. Another problem was the institutionalization of Research and Development at a critical and unhelpful point in discovery. Let's go back to the most famous and productive inventor in history-Thomas Edison. Why was he so productive? He came along with the right drive, personality and common sense at just the right time in the development of practical physics. He was not particularly bright in an educated sort of way, he was just, again, in the right place at the right time to harvest many pieces of knowledge coming to fruition. He fought with investors all through his career, both to obtain investment funds and then to protect his intellectual property. Nevertheless, he was very successful. Today, the discoveries are at the submicroscopic level involving advanced calculus and exotic mathematics; we have moved past the visual and algebraic solutions of Edison's day. At the submicroscopic level, we need scientists who are highly intellectual, narrow in scope, and, unfortunately due to these requirements, often are not great entrepreneurs or even visionary managers. Our research efforts are mostly led by one or another scientist plucked from these ranks, people bright in their fields but lacking an overall vision of how to put all the disparate parts into a master (there's that word again) transformative plan. They spend their time worrying about how to fund their institutions simply because they are not turning out great results which would attract eager investors. The problem is not a shortage of investors, it is a shortage of attractive and convincing investments (proof of no shortage of investment funds: the dot com bubble of the late 1990's--there is plenty of risk money as long as there is hope). Hence, we end up with government funding, the funding of last resort and a prima facie admission we are doing nothing but going through the motions. Government research funding is great for large all encompassing problems, such as energy policy, mass transportation and defense, but it lacks credibility in narrow product manufacturing areas. One of the newest scientific managers I know of in any field to achieve the goals of which I speak is Alfred L. Loomis. If you want to read about him, I suggest you pick up a copy of "Tuxedo Park" written by Jennett Conant and published by Simon & Schuster in 2002. Mr. Loomis had the gift. An absolutely contemporary leader in this area is Steve Jobs. I am sure he could not personally build an iPhone, but he had the vision and ability, without government funds, to do so. The pulp and paper industry needs its own "iPhone" and its own Steve Jobs. With these, plenty of private research money will line up to pay. Tragedy struck a community in Louisiana this week in ways it could strike any pulp and paper mill community. On Monday, a worker died after falling into a whitewater tank whose contents were at approximately 155F. In the same neighborhood, a man was killed within a couple of hours of this accident when hit by a truck while trying to keep a dog from running out in traffic. And, on the Saturday before, a woman was killed while mowing when her tractor turned over on her. Three accidental deaths, one little community, in 48 hours. Safety at home and at work are as important as ever. Be safe and we will talk next week.